Growing The Table
Supporting regenerative, BIPOC, LGBTQ+ & women-owned farmers, in order to nourish families, reduce food waste & save farms during the COVID-19 crisis.
We're helping to shift demand in the food supply chain towards a regenerative future & ensure greater racial & gender equity in the new economy. In short, we pay struggling & marginalized farmers to grow food for Californians facing food insecurity.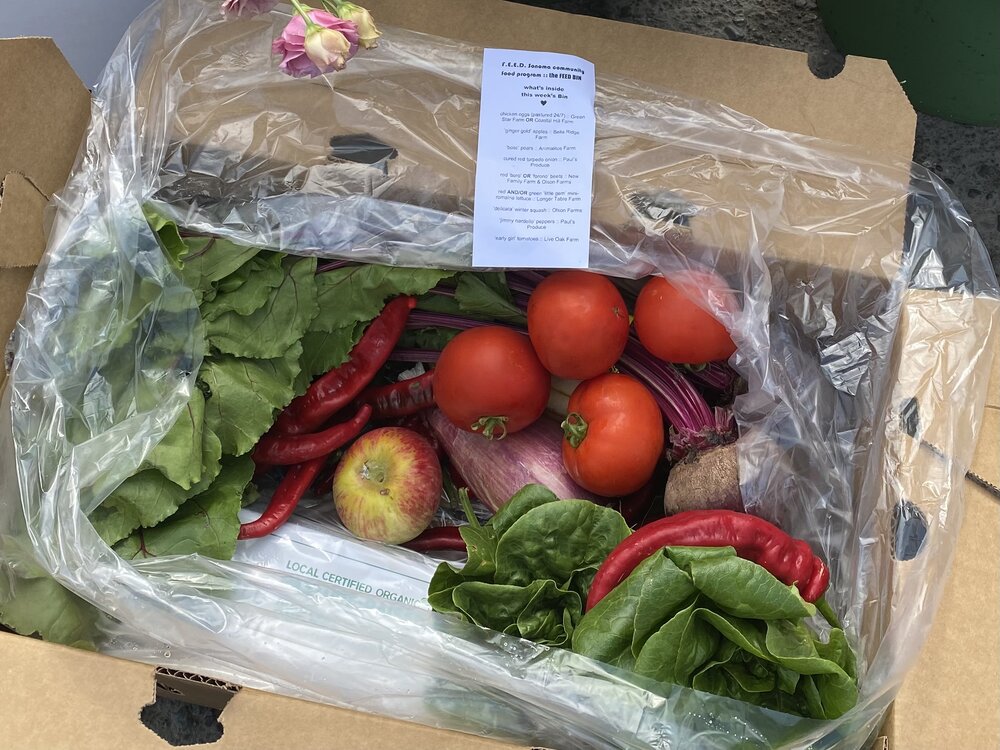 A Box of Dignity
A recipe, from in-house celebrity chef Duskie Estes, incorporating the box items as ingredients is included.
---
FEED Sonoma Farmers received over $316,100, providing over 9,579 nutritious CSA boxes to food-insecure families in 2022.
The Growing the Table (GTT) initiative was cultivated by the Office of Kat Taylor in 2020 because California farmers have seen their markets decrease by 50% , leaving them with excess produce & commodities for which they cannot find buyers. Restaurants & large food service institutions, like schools & offices, are no longer consistent clients. Simply put, many California farmers are struggling to keep their farms. Farm to Pantry was one of the original partners for this initiative in Sonoma County. We delivered over 15,000 boxes in 2020 - small farmers were paid, hungry people were fed, and our volunteers loved being involved. We believe the GTT model is such a game-changer for the food system and so essential to our local farmers' viability that, when funding ran dry in early 2021, we endeavored to keep it going on our own. Thanks to a guest appearance by Kat Taylor herself and generous "Paddle Raise" donors at our Summer Supper, we were able to raise over $100,000 for our farmers! Now, Farm to Pantry is officially running its own regional GTT hub. For more information on the statewide program, click on the link below.
---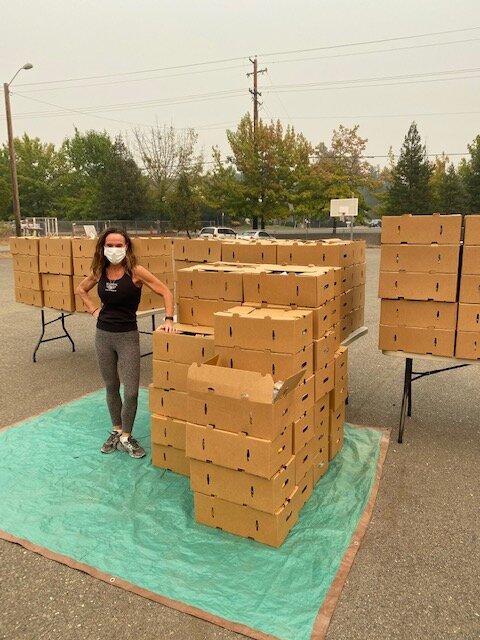 People's faces light up when they see the vibrant and nutritious contents in the box - it's like opening a delicious present!
We have regular weekly deliveries. If you are interested in a volunteer driving opportunity, click on the button below.
CLICK HERE TO BE A FOOD SANTA!
---
Over 80 Farms Benefiting from Growing The Table, including:
ALLSTAR Organics, Nicasio/Petaluma
Animalitos Farm , Occidental
Bella Ridge Farm , Occidental
Bernier Farms , Healdsburg
Coastal Hill Farm , Petaluma
County Line Harvest , Petaluma
Coyote Family Farm , Penngrove
Devoto Gardens , Sebastopol
Dew Drop Farm , Sebastopol
DMS Ranch , Sebastopol
EARTHseed Farm , Sebastopol
Earthworker Farm , Sebastopol
Filigreen Farm , Boonville
Foggy River Farm , Healdsburg
Four Oak Farm , Santa Rosa
Front Porch Farm , Healdsburg
Gold Ridge Organic Farms , Sebastopol
Gratitude Gardens , Forestville
Green Star Farm , Sebastopol
Kibo Farm , Santa Rosa
Kiss the Flower Honey Co , Sebastopol
Laguna Farm , Sebastopol
Lantern Farm , Cloverdale
Le Reve Farm , Sebastopol
Leisen's Bridgeway Farm, Santa Rosa
Live Oak Farm, Petaluma
Longer Table Farm, Santa Rosa
Marin Roots Farm , Petaluma
Mycopia , Sebastopol
New Family Farm , Sebastopol
Olson Farms , Penngrove
Paul's Produce , Sonoma
Pelicanos Farm , Petaluma
Pink Barn Farm , Sebastopol
Russian River Organics , Healdsburg
Rusty Gate Farm , Sebastopol
Salmon Creek Ranch , Bodega
Sausalito Springs , Petaluma
Singing Frogs Farm , Sebastopol
Spreadwing Farm , Capay Valley
Shone Farm , Forestville
Stony Point Strawberry Farm , Petaluma
Strong Arm Farm , Santa Rosa
Suncatcher Farm , Petaluma
Tierra Vegetables , Windsor
Toluma Farms, Tomales
True Grass Farms , Tomales
West County Community Farm, Sebastopol
White Fox Blueberry Farm , Occidental
Windrift Farms , Petaluma
Wingbeats Farm , Petaluma
---