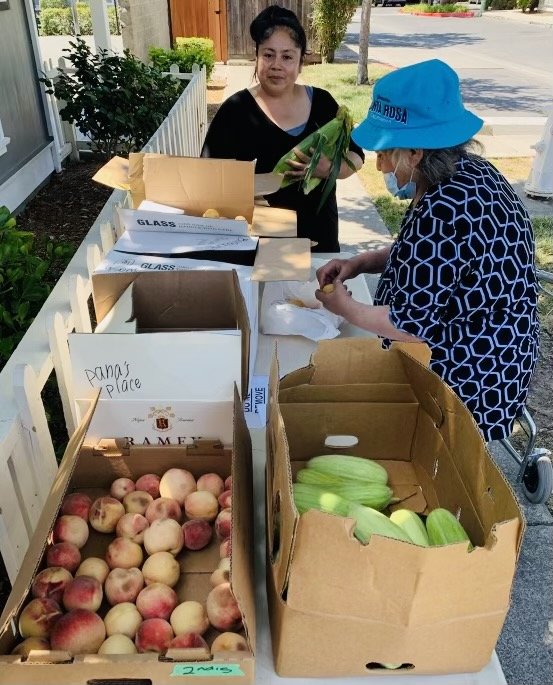 Who Gets Our Produce?
We value our hunger-relief partners who help connect the fresh produce we work so hard to rescue to the mouths of those who need it most.
2022 Recipients
4Cs - Windsor & Cloverdale
350 Sonoma
ABC Start
Acts of Kindness
Adele Harrison Middle School in Sonoma
Alexander Valley School
Alliance Medical Center
Boys & Girls Club - Santa Rosa, Windsor, Healdsburg & Geyserville
Burbank Housing (30+ locations in Healdsburg, Petaluma, Santa Rosa, Sebastopol, Sonoma & Windsor
Calistoga Food Pantry
CASTLE Child Care Programs
Canyon Run Apartments
Catholic Charities & Sam Jones Hall
Ceres Community Project
Cloverdale Food Pantry
Cloverdale Senior Center
Cloverdale Family Apartments
Comida Para Todos
Corazon Healdsburg
COTS in Petaluma
Council on Aging
Cura
El Molino Culinary
ELIM Church Food Pantry in Petaluma
Elisha's Pantry
Fetters/Celestina Apartments in Sonoma
Fircrest Mobile Home Park
FISH Food Pantry
Fire Foundry
Fitch Mountain After-School Care
Food for Thought
Geyserville Food Pantry
Graton Day Labor Center
Graton Rancheria Tribe
Healdsburg Day Labor Center
Healdsburg Elementary School
Healdsburg Food Pantry
Healdsburg High School Culinary
Healdsburg Senior Center
Healthy Apple Day Care
Hollyhock Housing
Horizon Shine
La Familia Sana
La Luz, Boyes Hot Springs
Laguna High School
Landpaths - Bayer Farm
Lideres Campesinas
Lombardi Santa Rosa Health Clinic
Morris St RV Community -Sebastopol
Neighborhood Garden Initiative
Nuestra Comunidad
Operation Christmas Tree
Oak Grove Apartments
Ortiz Plaza
Radical Family Farm
Redwood Empire Food Bank
Redwood Gospel Mission
Roberts Lake Encampment
Rosenburg Apartments
Saint Andrew's Episcopal Church, Monte Rio
Saint Paul's Episcopal Church
Saint Vincent de Paul
Salvation Army
SCBF Food Drive
SAVS - Sonoma Applies Village Services
Sebastopol Food Pantry
Sebastopol Interchurch Food Pantry
Sebastopol Grange Produce Exchange
Sonoma County Black Forum Food Distribution
Sonoma Family Meal
Sonoma State University Food Pantry
Sonoma Overnight Support
St Helena Community Pantry
The Living Room
TLC Child Services
Trinity Baptist Church
Una Vida
Vida Nueva
Vista Santa Rosa Health Clinic
West County High School Culinary
Windsor Service Alliance Food Pantry
Windsor Presbyterian Church Food Pantry
Farm-acy Carts
A cart one of our esteemed volunteers (Steve Pogue) built for his daughter's wedding was the first seed planted that bloomed into our "Farm-acy" Cart displays. We started with tables at medical facilities, but the cart gave it a more respectable food-sharing experience, less cafeteria-like in presentation.
We have carts stationed at the Senior Center in Healdsburg, Healdsburg Hospital and other Alliance Medical Centers. Patients are welcome to take this top-quality market produce home to feed their families. "People are so thankful and gracious when they help themselves to the produce," says Pogue. We delivered over 1 ton of produce to Alliance in just one season!
It certainly makes a trip to the doctor more "fruitful," better than a lollipop or a post-visit sticker!!
Recipient Drop Sites: