Grow-A-Row
As a way to ensure a steady supply of produce for those in need, we are expanding our Grow-A-Row Program. We help with growing guidance and/or provide the starts for your garden, with the promise that some of your harvest is donated to F2P so we can nourish families facing food insecurity. Turn your "Victory Garden" or backyard gardening endeavors into community service and participate in our program.
CONTACT US TO SEE IF WE HAVE SEEDS, STARTS AND/OR COMPOST IN STOCK SO YOUR GARDEN CAN MAKE A DIFFERENCE TO THOSE WHO ARE HUNGRY!
Prickett's Nursery & Harmony Farm Supply are offering a discount to Farm to Pantry Growers; PRINT OUT AND PRESENT THE CARD BELOW to get your discount!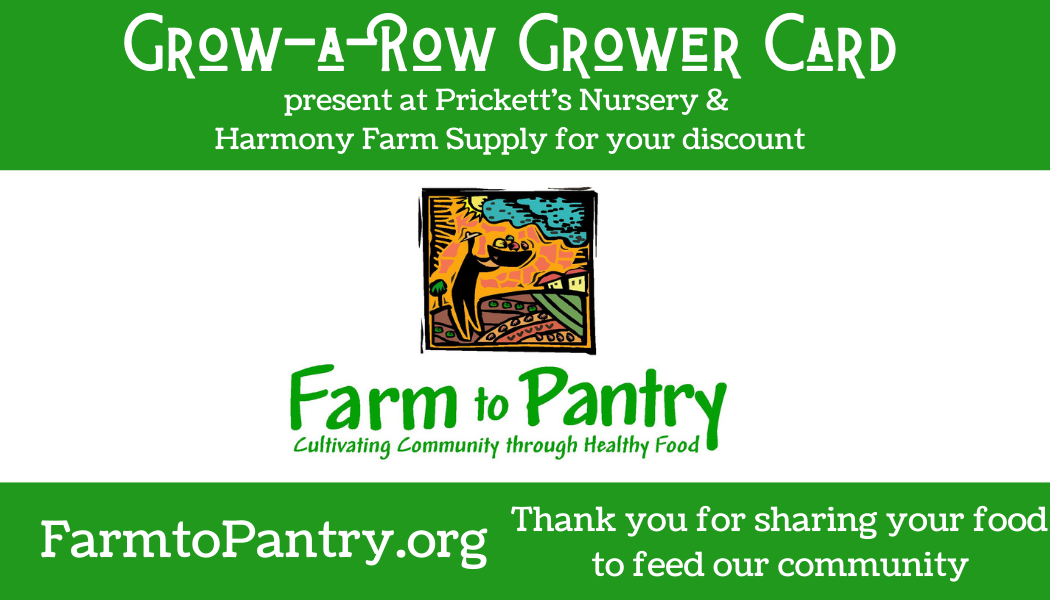 ---
Community Gardens
"Jardin de Brillo" is a rejuvenation of a community garden by neighbors, Farm to Pantry, Farm to Fight Hunger & Corazon.
MORE GARDENS BEING CULTIVATED!
---
To inquire about our Grow-A-Row and/or Community Garden Programs, please click on the button below: